Apple iPhone 14 review – PhoneArena
Apple iPhone 14 intro
Unlike the last few iPhone series editions, the iPhone 14 is the most basic and affordable of Apple's 2022 iPhones, starting at $799. Thus, you should not expect any drastic changes in design or hardware as Apple would like to keep its profit margins intact by introducing something very similar to the iPhone 13. By very similar we mean exactly the same, as most changes are tucked under the hood, with only a new chameleonic color left for the exterior.
Would an Apple iPhone 14 at a $799-$999 price range with new selfie and main cameras, satellite connectivity, faster modem, and bigger battery be worthy of an upgrade from an iPhone 13 or an iPhone 12 then? Hardly, but let's entertain the thought…
New iPhone 14 features
New 12MP ƒ/1.9 front-facing camera with autofocus
New 12MP ultrawide camera
New main camera with larger, 1/1.65″ sensor, and 1.9 micron pixels
4K Cinematic mode at 30fps
Better low-light photos with Photonic engine
Faster, more energy-efficient 6nm Qualcomm 5G modem made by TSMC
Bluetooth 5.3
50% more RAM
Satellite connectivity for SOS messages
Penta-core GPU
New blue color
Larger battery
HDR gyro and high-g accelerometer for the new Crash Detection service
Much easier and cheaper to repair than the iPhone 13 or the 14 Pro
iPhone 14 Specs
Apple has improved the iPhone 14 in a few key areas, such as the main and front camera, battery life, and wireless connectivity (both cellular and satellite), while at the same time slapping the faster A15 Bionic from the iPhone 13 Pro models on the iPhone 14.
Specs
iPhone 14
iPhone 13
Size and Weight
146.7 x 71.5 x 7.8 mm
6.07 ounces (172 grams)
146.7 x 71.5 x 7.65 mm
174g
Display
6.1″ OLED, 60Hz, 1200 nits peak brightness
6.1″ OLED, 60Hz, 800 nits max brightness
Processor
Apple A15 Bionic with pentacore GPU
Apple A15 Bionic
RAM
6GB
4GB
Storage
128GB/ 256GB / 512GB, no expandable storage
128GB / 256GB / 512GB, no expandable storage
5G modem
Qualcomm Snapdragon X65-based
Qualcomm Snapdragon X60-based
Cameras
12MP wide camera, f/1.5 aperture, 1.9 micron pixels, 1/1.65" sensor size
12MP ultra-wide camera, f/2.4 aperture
12MP ƒ/1.9 front-facing camera with autofocus
12MP wide camera, f/1.6 aperture, 1/1.9" sensor size
12MP ultra-wide camera, f/2.4 aperture
12MP fixed-focus camera
Battery Size
3,279 mAh
3,227 mAh
Charging Speeds
Lightning connector
20W wired charging
15W MagSafe wireless charging
Lightning connector
20W wired charging
15W MagSafe wireless charging
Price
$799 (128GB) / $899 (256GB) / $1099 (512GB)
starting from $799
iPhone 14 Models
The iPhone 14 is the cheapest in Apple's 2022 iPhone series of four new phones (sorry, no mini iPhone this year, the 14 will have to do):
iPhone 14 Design & Colors
Apple is keeping the same tired iPhone 14 design it has used for the past couple of years. It inherits the narrower notch from its predecessor, though, plus it would sport a slightly more refined screen bezel and a bit taller aspect ratio. Don't expect anything but aluminum frame sandwiching a Ceramic Shield glass front and back.
Same old buttons setup and an aging Lightning connector that doesn't allow very fast charging, too, so you'd have to wait for the iPhone 15 to upgrade on that front. The two rear cameras sitting on an oversized "stove top" are a go, too, but at least a new color is in store. The iPhone 14 colors include a new blue shade-shifting hue:
Midnight
Starlight
Blue
Project (RED)
Purple
Repairs
Easiest, cheapest to repair modern iPhone
The first iPhone 14 teardowns showed that what it lacks in exterior redesign has translated into a case of the "beauty is on the inside" axiom. The folks from iFixit gave it their highest repairability score of 7/10 since the iPhone 7. The culprit? Apple's complete internal redesign to make the iPhone 14 assembly more modular in nature and with much easier access to the separate components.
Above all, however, is the fact that you can now remove the glass backplate as easy as replacing the screen panel and Apple will no longer charge you for nearly a whole iPhone when you crack its glass back. The new "Back glass replacement" category brings with it a $169 rear panel replacement, rather than the $449 that the same operation commands on the iPhone 13 out of pocket.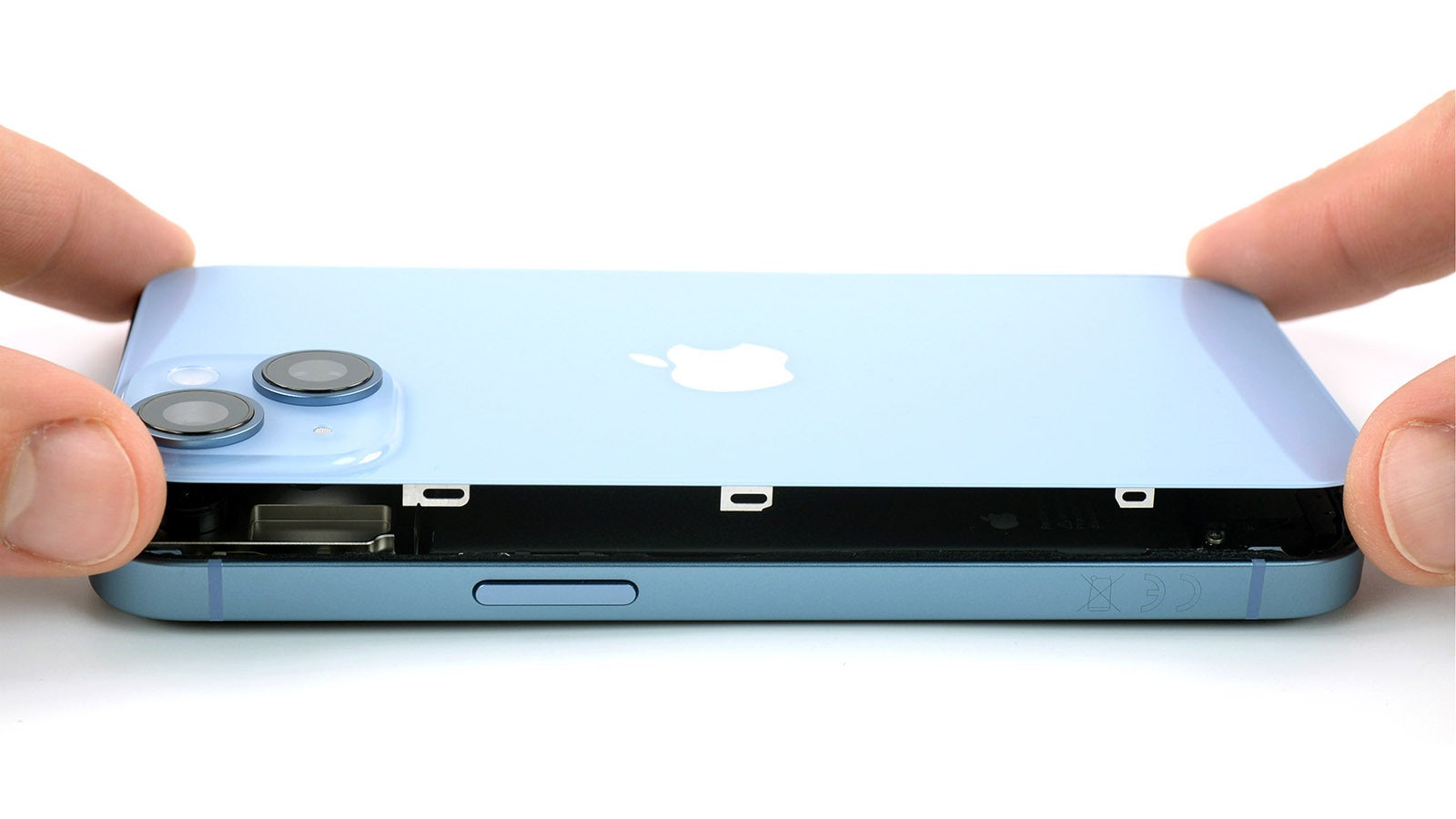 The iPhone 14 marks a watershed moment in repairability
iPhone 14 Display
No Always-on display mode, color mishaps
The iPhone 14 sports the same 6.1-inch 1170p OLED display and Apple won't introduce the new playground for iPhone enthusiast on it, an Always-on Display mode that is reserved for the Pro models. It's been a staple on Android phones for a good while, particularly Samsung ones, but Apple is just getting around to it. 
At the fixed 60Hz refresh rate on the iPhone 14, however, it could be a battery hog, so Apple isn't taking any chances, though a larger battery pack and more frugal connectivity chips could offset the power draw of the Always-on display feature.
Тhe rumors for a new, taller 20:9 aspect ratio didn't materialize, so Apple's notch at the top of the iPhone 14's display doesn't lose the visible gains from narrowing it in the previous iPhone 13 generation.
While we expected stellar display benchmarks from the iPhone 14, as usual, this time around Apple didn't excel with the factory calibration and the phone offers worse color gamut accuracy than the iPhone 13 as you can see from our benchmark chart below. It still offers 800 nits of typical brightness and 1200 nits of peak, but the lack of a higher refresh rate on an $800 phone, and the color credibility misses, make the iPhone 14 display an actual downgrade from its predecessor's.
iPhone 14 Camera
Same old, same iPhone 13 Pro gold
The iPhone 13 has a pretty good all-rounder for a camera, but, even though some Android phones at its price level sport telephoto zoom lenses, Apple keeps issuing $800 phones without one, and the iPhone 14 camera is no exception.
That last component should be music to the ears of anybody considering an iPhone 14 purchase, as it is in fact the only meaningful hardware upgrade on the phone, considering how important it is to TikTok or be Reel-ing it in style is these days.
The ultrawide and the main camera seem to be directly borrowed from the iPhone 13 Pro, meaning larger sensors and wider apertures letting more light in, so, all in all, the iPhone 14 is a decent photography upgrade.
In fact, with the iPhone 14 Apple introduces a new Photonic Engine for enhanced performance of all cameras when the light starts to go down. It says that low-light photography is better by "up to 2x on the Ultra Wide camera, 2x on the TrueDepth camera, and an impressive 2.5x on the new Main camera," though it isn't clear what are these numbers benchmarked again, and how. Photonic Engine works "by applying the computational benefits of Deep Fusion earlier in the imaging process to deliver extraordinary detail, and preserve subtle textures, provide better color, and maintain more information in a photo." Does the iPhone 14 deliver? 
Actually, yes, as you can see from our sample shots below. The images from the iPhone 14 are low-key better than those from the iPhone 13. There is a slightly wider dynamic range, especially pronounced in the night shots as exemplified by the decreased halo around bright lamps in the entertainment park below, and the brighter shadows. The iPhone 14 captures more details, too, visible from the very first photo here, but, above all, its white balance is, well, more balanced now, with warm, but not to the point of yellow overcast in photos.
The higher-res selfie camera with autofocus delivers better results in terms of detail and color credibility as well. All in all, the iPhone 14's camera set is slightly better in all aspects than what's on the iPhone 13.
Other than that, you have the same amazing 4K video capture that has become Apple's trademark with iPhones lately, as well as the photography staples like Cinematic Mode and Styles that got introduced with the iPhone 14's predecessor. Videos are with warm colors, full of detail, fast continuous autofocus and, above all, excellent stabilization.
iPhone 14 Performance & Benchmarks
Old A15 chip, but new for the non-Pro series
Unfortunately, one of the biggest added values of new iPhones – a faster chipset every time – isn't be available on the new iPhone 14. Apple has assumed that the A15 is fast enough for its iOS 16-powering, 4K video recording, or 3D-gaming duties on the lower refresh rate of the iPhone 14's display, so it stayed last year's course for the first time. 
As if to offset the pain of the old chipset, the Apple A15 Bionic for the iPhone 14 family is taken directly from the iPhone 13 Pro, with an extra graphics processing core unleashed when compared to the iPhone 13 and this really shows in our graphics benchmarks below that are significantly higher than those on the iPhone 13.
iPhone 14 Benchmarks
Moreover, Apple has bumped the operating memory paired with the A15 chipset to 6GB of RAM, up 50% from the iPhone 13 and the same as on last year's Pro models. Just don't expect it to be of the faster LPDDR5 generation, yet you'd be able to keep more apps and services open in the background at the same time. There is again 128GB of base storage, followed by a mid 256GB tier, and a big 512GB upgrade for $1099.
iPhone 14 Connectivity
Some real upgrade from the iPhone 13
The only big hardware upgrade area on the iPhone 14, besides the front-facing camera, would be its connectivity chippery that now includes satellite support, the latest Bluetooth 5.3, and a new 5G modem. The iPhone 14 series is using a custom low-power 5G modem with up to 10Gbps download speeds, based on Qualcomm's current Snapdragon X65 model, as the 4nm X70 isn't coming before far into Q4. 
Apple ran into trouble with the development of its own 5G modem, as Qualcomm's expertise in band filtering and power draw is unsurpassed. That is why Qualcomm reportedly raked in a 100% of the iPhone 14 5G modem orders and will be supplying it with a smaller, more energy-efficient cellular connectivity chip that will help increase the iPhone 14 battery life and free up some space for a larger pack.
In addition, the iPhone 14 ships with the newest Bluetooth 5.3 connectivity standard as well as support for the n53 satellite connectivity band of Globalstar – Apple's partner for the Emergency SOS service that now works without cellular coverage.
Last but not least, in the US the iPhone 14 models ship without a SIM card tray as Apple moves to e-SIM completely, a watershed moment in its carrier relationships. "Not compatible with physical SIM cards" seems to be Apple's official name for the feature and it is a good one.
SOS emergency satellite connectivity on the iPhone 14
The big surprise, however, is the presence of satellite connectivity on the iPhone 14. It can be used for emergency SOS messages which can be sent in less than 15 seconds if you have clear skies when you are out in the boondocks and completely off the grid and cellular connectivity. 
Staring in November, the satellite connectivity of the iPhone 14 series will hit the US and Canada and it will be free for two years. Apple uses Globalstar and the X65 modem support for its n53 frequency band for the satellite SOS services. It will be fronting Globalstar millions for new satellites and is hogging 85% of its current network with eyes on the future expansion of its extraterrestrial connectivity.
iPhone 14 and iOS 16: new features
The iPhone 14 series powers the latest iOS 16 update that offers an Always-on Display functionality, a new media player, and a plethora of new features that will then trickle down to previous iPhones.
The Always-on Display option, however, is reserved for the iPhone 14 Pro series to set it apart from the iPhone 14. Thus, in the case of the more affordable models, the specs differences are rather minor so Apple improvised to set them apart from their predecessors in its marketing push with things like satellite connectivity or new camera algorithms.
iPhone 14 battery life and charging speeds
The shrunk modem chip and a new cooling design for the internals have allowed Apple to place a larger, 3279 mAh battery in the iPhone 14, compared to the 3227 mAh piece in the iPhone 13.
Its predecessor already has great endurance and the iPhone 14 battery life is no exception thanks to the frugal connectivity chips and the efficient iOS 16 task distributor. According to Apple it can last an hour more of local video playback or streaming video, or five hours longer during audio playback sessions.
In our YouTube video streaming run we didn't find as much of a difference between the 2021 and 2022 iPhones, but the browser test showed more significant gains. The more powerful and more energy-consuming graphics subsystem, however, didn't fare well in terms of battery life while gaming compared to the iPhone 13.
As for the iPhone 14 charging speeds, you get the same slow two-hour pumping of electrons through the aging Lightning port and the puny 20W charger that Apple asks you to buy separately if you don't have one lying around.
iPhone 14 Competitors
The only real iPhone 14 competitor is the… iPhone 14 Pro. The display, camera, and performance gap is even bigger this year, and definitely worth the two Benjamins or so extra for the Pro model. 
At the $799 iPhone 14 price point, there are a lot more phones with better specs to consider if you venture outside Apple's iOS ecosphere. You can, for instance, get a Galaxy S22 deal for less than $700, with faster 120Hz display and telephoto zoom lens. Alternatively, you might want to wait for the Pixel 7, as it will sport better camera hardware and a cooler design.
If Apple has locked you into its walled garden, however, simply keep your iPhone 13 as there is barely an upgrade worth switching to in the iPhone 14 in case you are coming from its predecessor, or even from the iPhone 12. 
iPhone 14 Summary
The iPhone 14 has a package virtue going for it – a compact 6.1″ design coupled with the fastest mobile processor this side of the iPhone 14 Pro models. You can, however, use any Apple A15 or even A14-powered vessel to carry all your new iOS 16 features.
In fact, a switch to the iPhone 14 would be worth it only if you are coming from something like the 5G-deprived iPhone 11, otherwise you'd better score a pretty good iPhone 14 deal if you are mulling over an upgrade. Slightly faster chipset and connectivity options, a tad better low-light camera performance, autofocus in the selfie snapper, and a bit longer battery life in some scenarios… really, Apple? 
All in all, for newcomers to the iOS universe the iPhone 14 would be enticing as the cheapest 2022 iPhone model with the new Crash Detection feature that may be helpful during accidents, but that's about it. For all other intents, better get the iPhone 14 Pro as Apple made a deliberate effort to offer way more value than the $200 price difference commands.