Samsung Galaxy Z Fold 4 hands-on review
Fresh off the presses, the Galaxy Z Fold 4 is now here, aiming to perfect Samsung's foldable phone formula and ultimately become the foldable phone to beat. The brand new device scores some key improvements over its predecessor, the Galaxy Z Fold 3 that certainly made the 2021 summer hotter than usual, and fixes some wrongs that definitely elevate it above the competition. 
What's new about the Galaxy Z Fold 4
Slightly different screen aspect ratio
Slimmer and lighter build
New hinge design, but mostly the same design
New camera system from the Galaxy S22 line
Lots of multi-tasking improvements
Galaxy Z Fold 4 specs
Specs
Galaxy Z Fold 4
Galaxy Z Fold 3
Display
7.6″ Dynamic AMOLED Infinity Flex Display (2176 x 1812 pixels, 21.6:18)
1-120Hz refresh rate
7.6″ Super AMOLED (2208 x 1768 pixels, 22.5:18)
60/120Hz refresh rate
Cover display
6.2″ Dynamic AMOLED, (2316 x 904 pixels, 23.1:9), 48-120Hz refresh rate
6.2″ Super AMOLED (2268 x 832 pixels, 24.5:9)
60/120Hz refresh rate 
Dimensions
Folded: 67.1 x 155.1 x 15.8mm (Hinge) ~ 14.2mm (sagging)
Unfolded: 130.1 x 155.1 x 6.3mm
Weight: 263gr
Folded: 67.1 x 158.2 x 14.4 mm
Unfolded: 128.1 x 158.2 x 6.4 mm
Weight: 271gr 
Processor
Qualcomm Snapdragon 8+ Gen 1 4nm octa-core
Qualcomm Snapdragon 888 SM8350 5 nm octa-core
RAM
12GB LPDDR5
12GB LPDDR5
Storage
256GB | 512GB | 1TB UFS3.1
256GB | 512GB UFS3.1
Rear cameras
12MP Ultra Wide Camera
F2.2, Pixel size: 1.12μm, FOV: 123˚

50MP Wide-angle Camera
Dual Pixel AF, OIS, F1.8, Pixel size: 1.0μm, FOV: 85˚

10MP Telephoto Camera 
3.0X Optical, PDAF, F2.4, OIS, Pixel size: 1.0μm, FOV: 36˚

12MP Ultra Wide Camera
F2.2, Pixel size: 1.12μm

12MP Wide-angle Camera
PDAF, OIS, F1.8, Pixel size, 1.8μm

12MP Telephoto Camera
2.0X Optical, PDAF, F2.4, OIS, Pixel size: 1.0μm

Under-display camera
4MP F1.8 Pixel size: 2.0μm
4MP F1.8 Pixel size: 1.0μm
Front camera
10MP Selfie Camera

F2.2, Pixel size: 1.22μm

10MP Selfie camera

F2.2, Pixel size: 1.22μm

Battery Size
4400mAh, 25W wired charging (50% charge in 30 min with 25W Samsung charging adapter)
10W Wireless charging 
4400mAh, 25W wired charging
10W Wireless charging
Software
Android 12L, One UI 4.1.1
Android 11w/  One UI 3.1.1 – Android 12 w/ One UI 4
Colors
Graygreen, Phantom Black, Beige, Burgundy (Samsung.com exclusive)
Phantom Black, Phantom Green, and Phantom Silver
Price
$1799.99 (256GB), $1919.99 (512GB), $2159.99 (1TB)
$1799 (256GB), $1899 (512GB)
Galaxy Z Fold 4 Design & Colors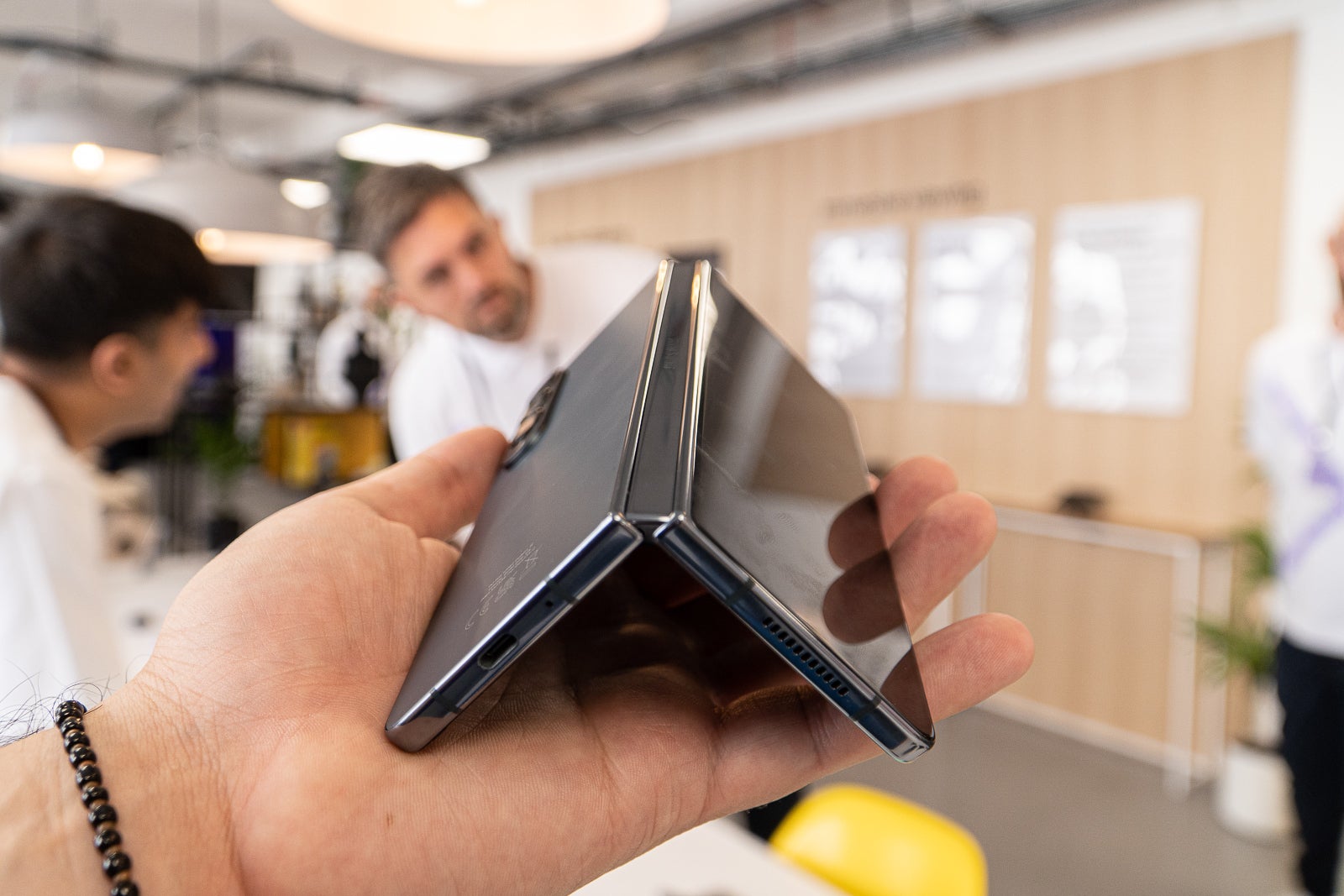 (Image credit – PhoneArena) Galaxy Z Fold 4 – hinge
Overall, the Z Fold 4 feels rather similar to last year's Z Fold 3: sits well in the hand and is easy to use when folded, and opening tons of potential for superb multitasking when unfolded. At first glance the Galaxy Z Fold 4 looks nearly identical to the Galaxy Z Fold 3, but there are in fact some neat quality of life design changes added to the new model.
The Galaxy Z Fold 4 is not only lighter at 263 grams, which is about 10 grams less than its predecessor, but also slimmer, thanks in part to a redesigned hinge, and the fact that its display will be shorter and a bit wider, making it a tad better for consuming content. This, of course, will slightly change its display aspect ratio: while the Z Fold 3 had a 22.5:18 display, the Z Fold 4 is noticeably squarer in comparison, with an inner display ratio of 23.1:19. 
Though we kind of expected Samsung to throw in an under-display fingerprint scanner on the Z Fold 4, and even heard rumors about a double-sided one that would also allow the user to use this biometric feature from the cover screen as well, Samsung's newest foldable still relies on the good old capacitive fingerprint scanner embedded right within the power button. Don't get us wrong, although it's not cutting edge or pushing the innovation boundaries further, this fingerprint sensor still works excellent, authenticates and unlocks the phone in a jiffy and usually in one swift motion.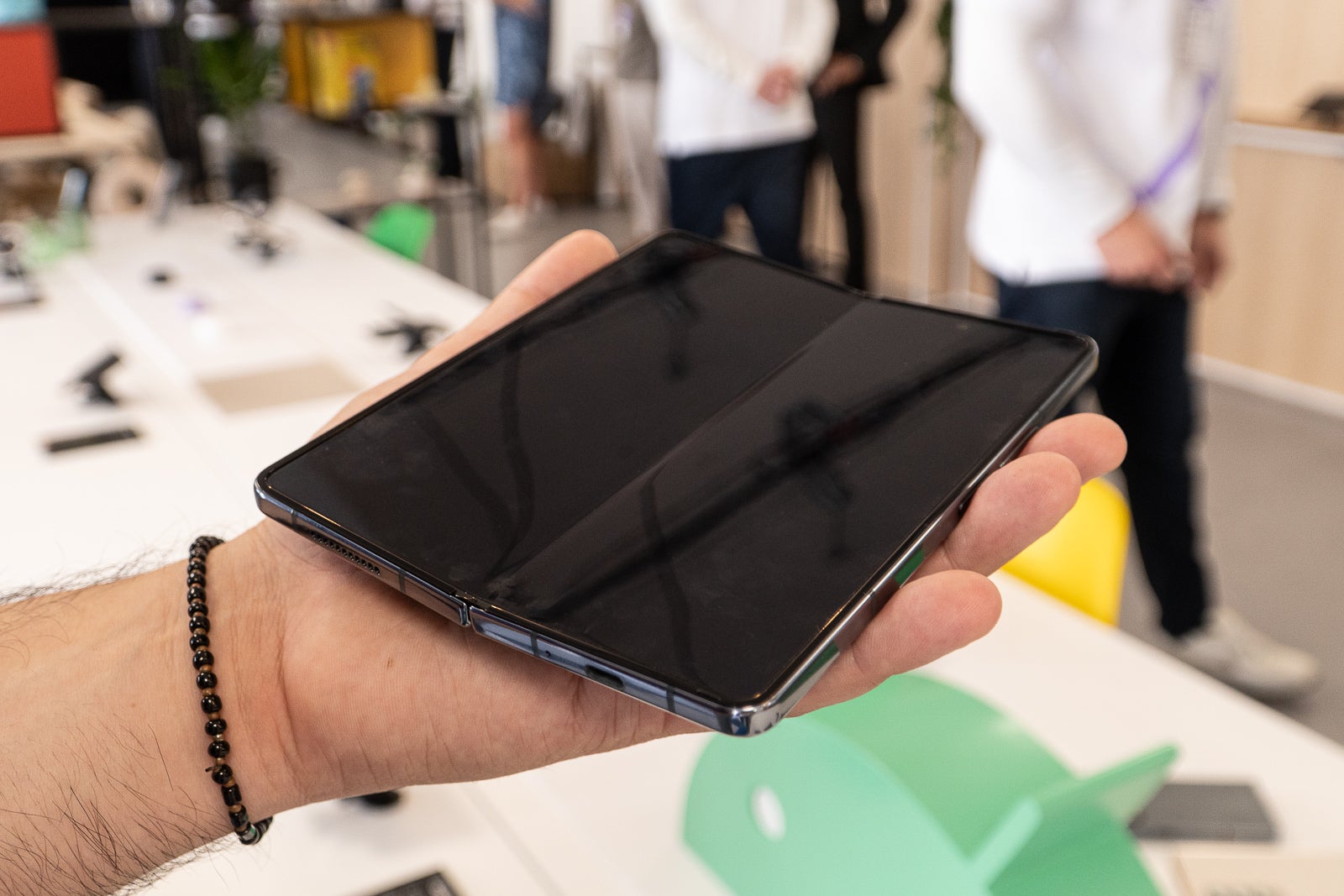 (Image credit – PhoneArena) Galaxy Z Fold 4 – display crease
There's still a noticeable wedge gap when folded, leading to the infamous 'sagging' design which might still not strike the fancy of some. The Z Fold 4 still has that IPX8 water resistance, allowing the phone to be dunked in up to 1.5 meters of freshwater for up to 30 minutes, but sadly, dust-resistance is not part of this combo deal. Probably next year, right?
As for the color options, the Z Fold 4 will be available in "Graygreen", Phantom Black, Beige, and Burgundy (exclusive on Samsung.com). The new colors look really nice in person, the green one in particular stands out as really classy, and Samsung mentioned that cases in the same colors will be available for purchase as well.
Galaxy Z Fold 4 Displays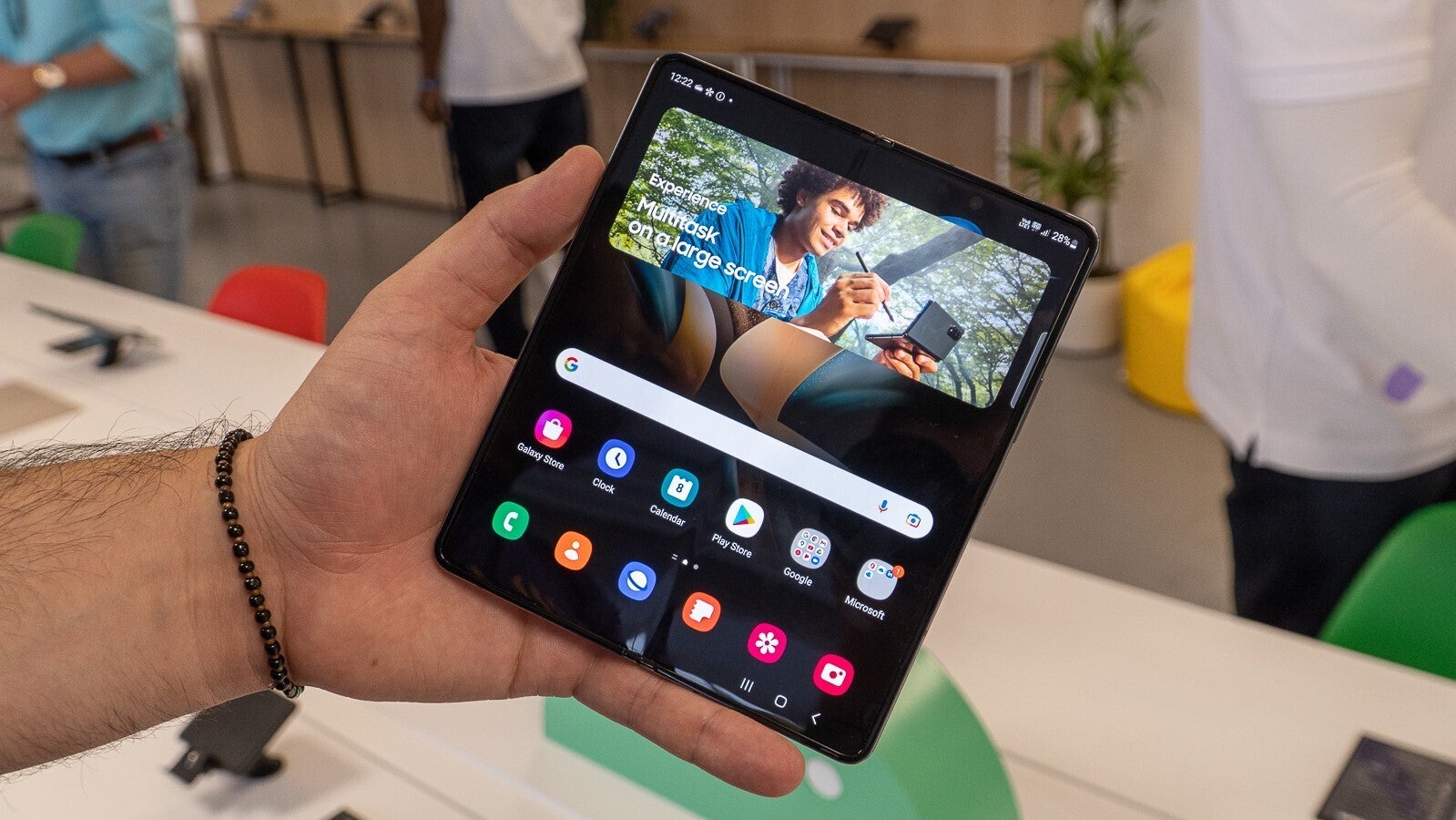 (Image credit – PhoneArena) Galaxy Z Fold 4 display
The main piece that makes this phone as cool as it is – it's large and beautiful AMOLED folding display, now comes in a different aspect ratio, making it ever so slightly better for media consumption. We're talking about an expansive 7.6-inch Dynamic AMOLED screen with a 2176 by 1812-pixel resolution, which looks sharp enough in person, but also truly captivates you with its vividness and brightness, typical for a Samsung display.
The main display's crease is similar to the on the old phone. That's kind of bad news – if the crease bothered you on the Z Fold 3 and its predecessors, it will certainly bother you here as well. Still, that's the price you have to pay for the utility of a foldable phone, and rest assured getting used to said crease isn't particularly hard.
The 6.2-inch cover screen now has much thinner bezels and looks much more adequate for longer usage. Typing, for example, as well as mundane tasks like social media consumption and regular web browsing, are all just some of the experience that feel much improved in comparison with the Z Fold 3.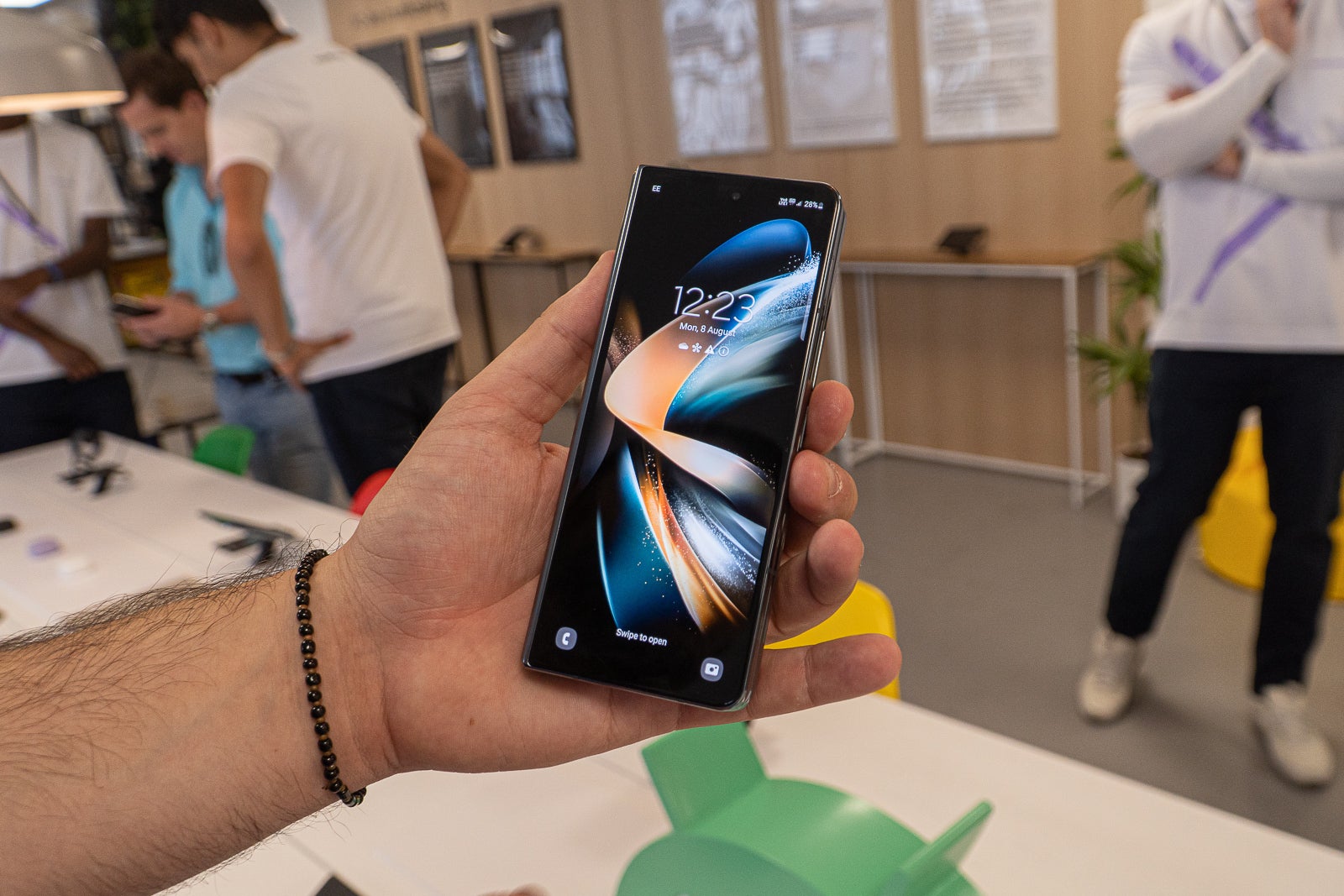 (Image credit – PhoneArena) Galaxy Z Fold 4 outer display
Both the Z Fold 4's big folding display and its smaller outer display are120Hz AMOLED ones, which means a super-smooth Android interface, smooth gaming (and on a rather big screen, too!), and best of all – vibrant, rich colors with pitch blacks. They are not equal, though – the main display can go as low as 1Hz, while the cover screen only hits 48Hz at the lowest, but that didn't bother us one bit when we played with the Z Fold 4.
Stay tuned for our real life usage impressions when our Galaxy Z Fold 4 review is ready – right here!
Galaxy Z Fold 4 Camera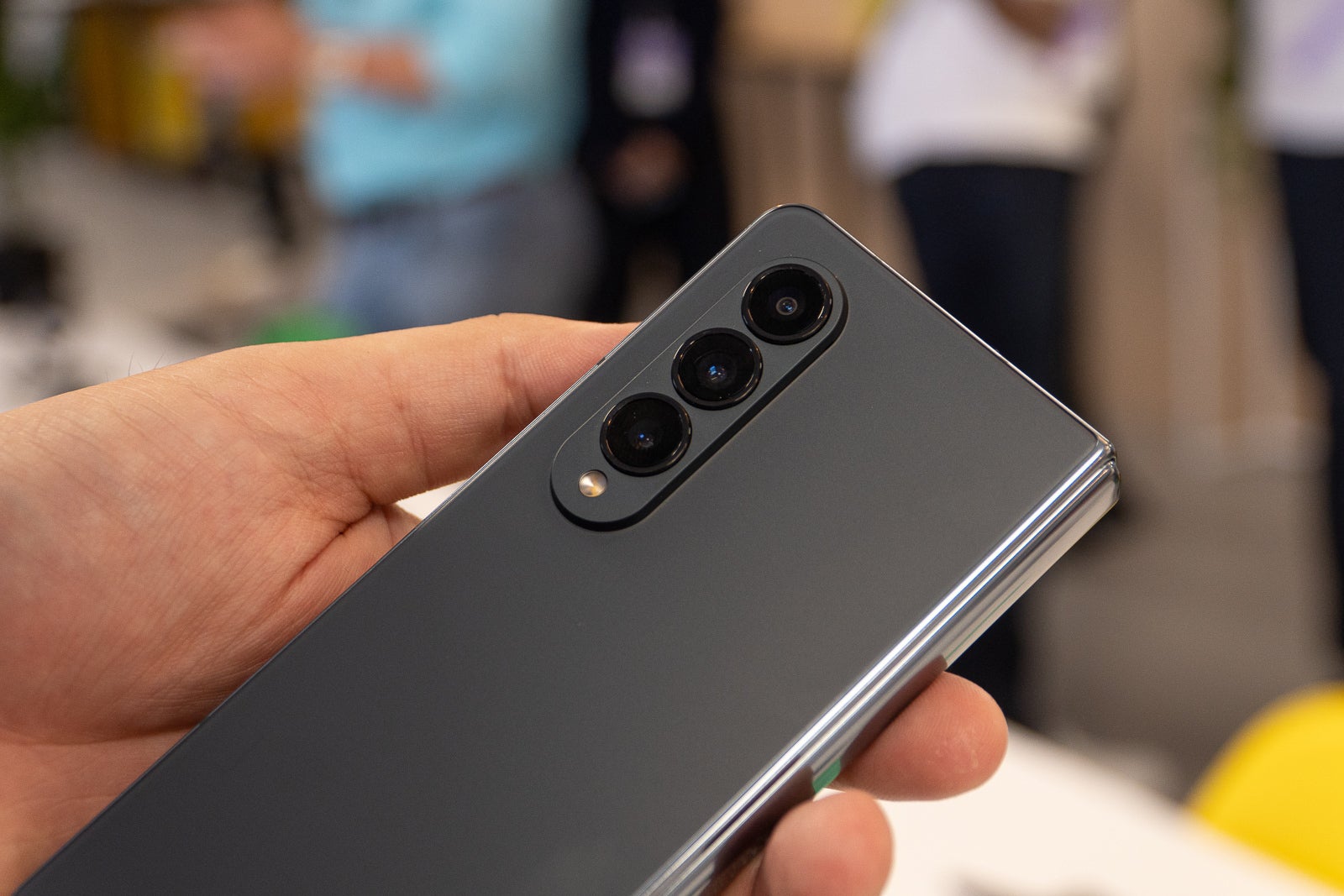 (Image credit – PhoneArena) Galaxy Z Fold 4 camera
The Z Fold 4 scores a new camera setup that's essentially similar to the one found on the Galaxy S22 and Galaxy S22 Plus. This means a 50MP main wide-angle camera, a 10MP telephoto camera with a 3X optical zoom, and finally, a 12MP ultra-wide snapper. As a result, image quality should be similar, if not better to the Galaxy S22-series. Samsung could have achieved that by fully utilizing the power of the latest Qualcomm chipset that powers the Z Fold 4, so here's to hoping that image quality has scored some nifty improvements despite using the same hardware from earlier this year.
Another key aspect of the Z Fold 4 – its under-display camera – has also received some much-needed love from Samsung. See, it's still a 4MP unit, and its overall quality hasn't improved in multitudes, but it's now covered by a much denser display layer with a less pronounced pixel grid. It's harder to make out, especially when you're checking out videos or pictures in full-screen mode, though you can still make out its location if you look closely. Still, an important improvement that could lead to nearly invisible under-display cameras in the future.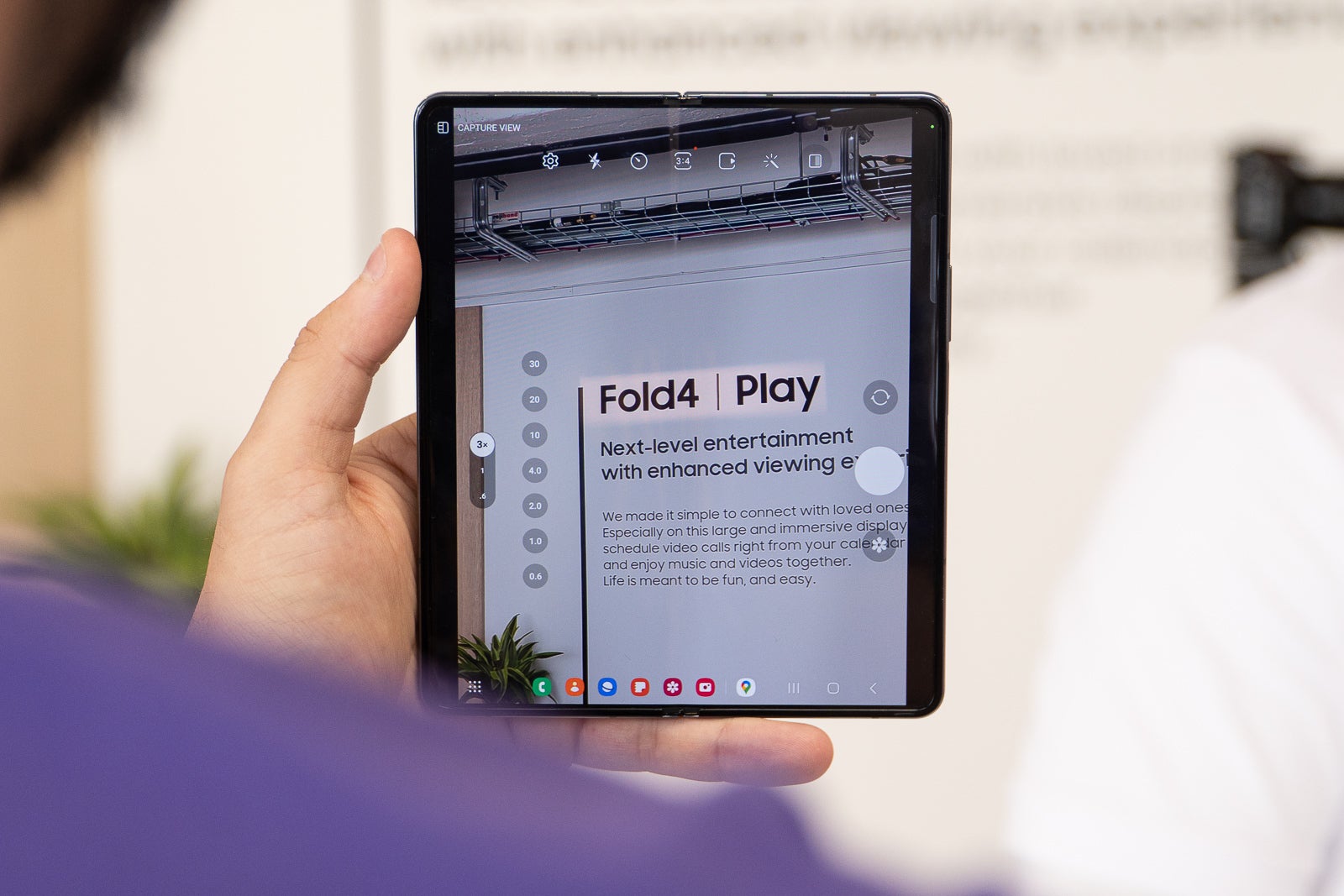 (Image credit – PhoneArena) Galaxy Z Fold 4 camera app
Yet, if you really want to snap a great selfie, you're much more likely to use the 10MP selfie camera on the cover screen, or even use the main cameras and preview your picture on the cover screen. This seems like a sure-fire way to success on the selfie front. 
Galaxy Z Fold 4 Software and features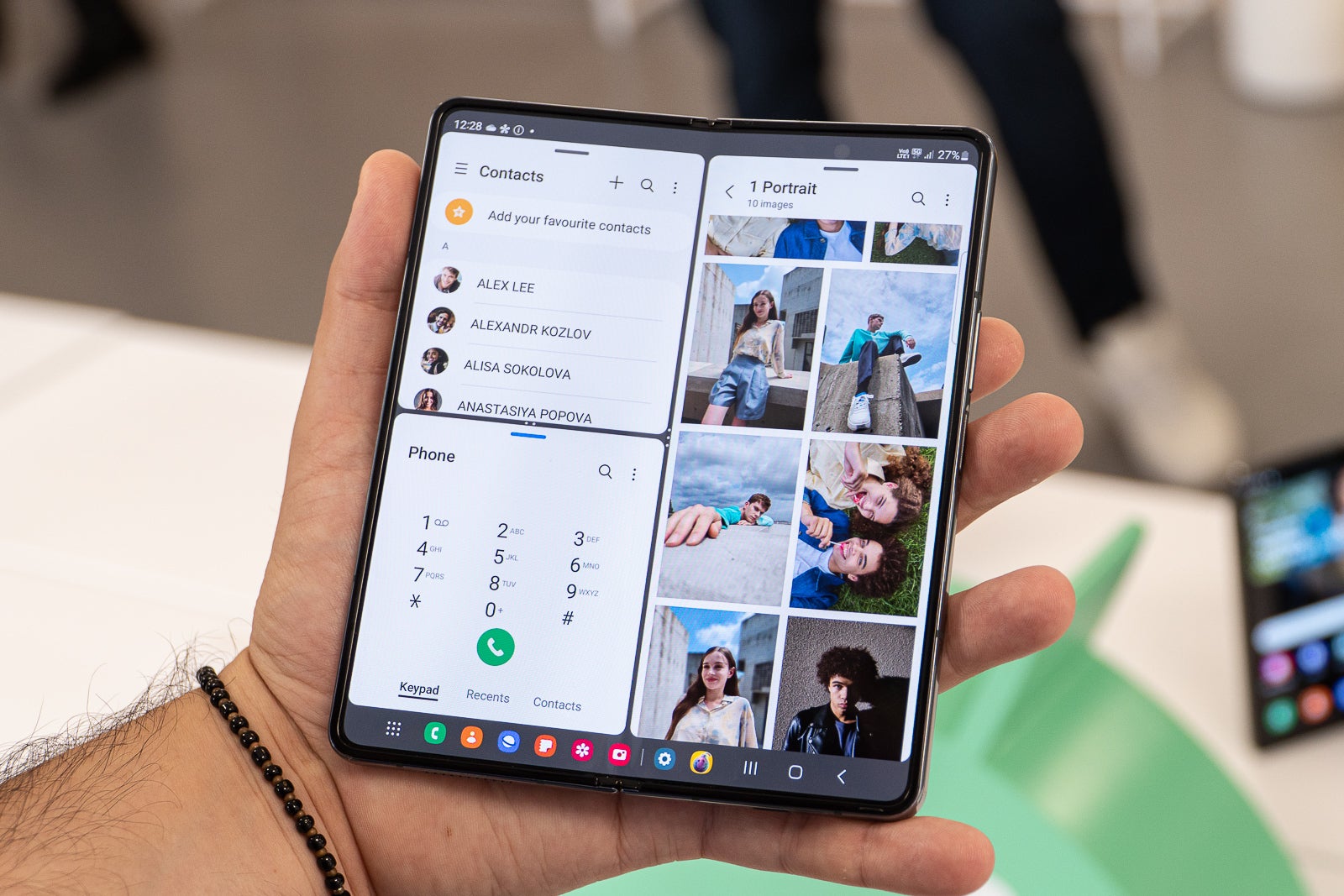 (Image credit – PhoneArena) Galaxy Z Fold 4 multitasking
The Galaxy Z Fold 4 is shaping up to be a productivity powerhouse, just like its predecessors, thanks to some new, even better multitasking features, or at the very least – improvements over the old ones. Running three apps at a time in split view, with even more in popup windows if you wish to, and having a fixed dock are just a couple of novelties that pump multi-tasking to 11.
The Galaxy Z Fold 4 now has a functional taskbar of sorts, or a Dock, which houses your recent apps and is customizable with whatever apps and app combos you might wish to have as shortcuts. It functions rather similar to a Mac dock or a PC taskbar, and definitely improves the multitasking capabilities of the inner display. As we mentioned, you can use up to three apps in split-screen mode, with all having fully resizable borders, as well as open other apps in pop-up mode for multitasking that's bordering with the overwhelming. 
Granted, even though the inner display is rather large and convenient for such tasks, using an S Pen could definitely improve things as running so many apps at the same time could quickly lead to digital claustrophobia. Speaking of S Pen, Samsung still has a dedicated Fold version of its superb S Pen stylus available as a separate purchase, and just as before, you will have to slot the accessory in any of the available S Pen cases, which are also sold separately. 
The whole shebang is ran on Android 12L, with Samsung's latest One UI 4.1.1 software on deck. Have in mind that Android 13 is just around the corner, and we expect this one to hit the Z Fold 4 in a couple of months' time with possibly many new features in tow.
Samsung DeX is also still available on the Z Fold 4, giving you a slightly different but also superb multitasking experience in a desktop environment. DeX comes off as especially useful when you connect your Z Fold 4 to an external display, and wish to take full advantage of that larger screen real-estate. Definitely a productivity powerhouse, this phone is.
Galaxy Z Fold 4 Battery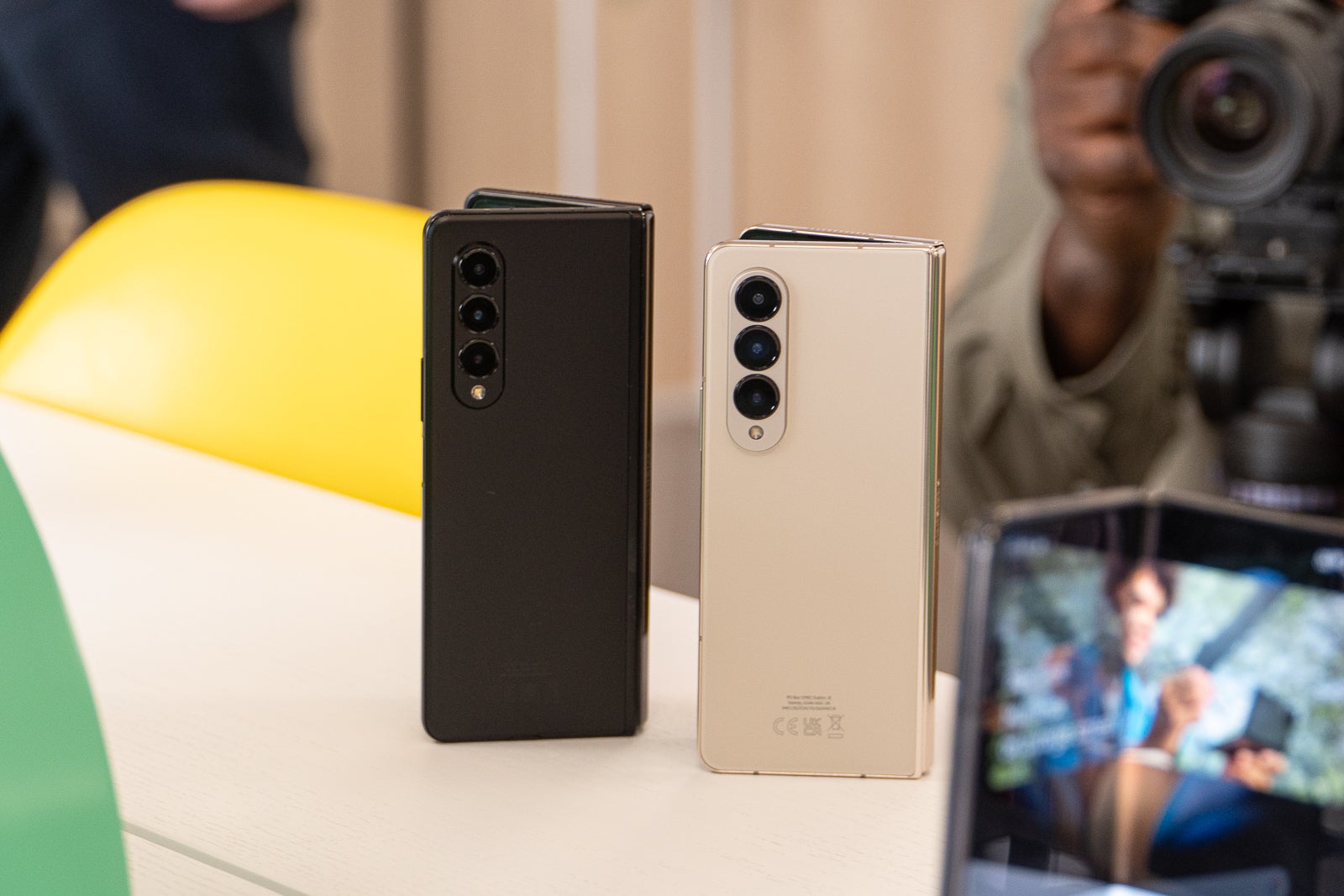 (Image credit – PhoneArena) Galaxy Z Fold 4
Despite the slight dimensional differences, Samsung has kept the 4,400mAh battery, which is similar to what we had on the Z Fold 3. Paired with the much more efficient 4nm Snapdragon 8+ Gen 1 chipset and adaptive refresh rate of the main screen, we could potentially expect a bump in battery life, which could be great to see!
As a refresher, the Z Fold 3 lasted for 8 hours and 15 minutes of web browsing in our dedicated battery test, nearly 7 hours during video streaming, and about 5 hours and 20 minutes in terms of gaming. Anything we get above those figures with the Z Fold 4 should be a win. 
In terms of charging, the Z Fold 4 comes with 25W wired charging, giving 50% charge in roughly 30 minutes with a compatible 25W Samsung adapter. 
Galaxy Z Fold 4 performance and hardware
Is the Exynos era over? It's hard to say at this point, but the Z Fold 4 will be skipping Samsung's own line of chips in favor of Qualcomm's latest and greatest Snapdragon 8+ Gen 1 chips, which will be powering the foldable globally. The 4nm octa-core chip is being universally praised thanks to its much better efficiency, power and thermal management. Definitely a winner of a silicon that would definitely elevate the performance frontier for foldable phones!
All Z Fold 4 versions will come with 12GB of LPDDR5 RAM, which should be more than adequate for the multi-tasking needs of most people. In terms of storage, we will be getting three versions of the phone, with 256GB, 512GB, or 1TB of on-board storage, but no memory expansion options.
The Galaxy Z Fold 4 is certainly shaping up as the top contender for the "Best foldable of 2022" title, and looking at the not-so-diverse competition, the race could be mostly uncontested. A multi-tasking powerhouse with potentially great camera setup and key improvements in some important areas, the Z Fold 4 does a lot of things right and generally feels like an excellent phone.
Still, it also seem like a rather safe and iterative upgrade over the Z Fold 3, which is still an excellent device itself. Samsung has decided to go for the incremental evolutionary path and wouldn't want to change its proverbial foldable winning team. The reason for this is mostly the lackluster competition which doesn't really push Samsung to take bolder risks and innovate more with its foldables, which is the most probable reason why they mostly feel like slightly improved variations of 2021's foldable crop.